About
I'm an artist and storyteller based in Toronto; I have worked in illustration, graphic design and comics, and most recently I have been branching out into animation. I love to tell stories and explore new worlds and characters, and I hope to keep improving and expanding my abilities over time.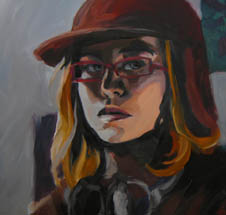 I completed a Bachelor of Fine Arts at the Nova Scotia College of Art and Design in Halifax, and in summer 2012 completed a post-graduate program in Computer Animation at Sheridan College in Oakville. I can work in both Canada or the United States, as I have a dual citizenship, and am hard-working and eager for a challenge. My email is varethane@gmail.com, and I can be found on a variety of other websites under the username 'varethane':
This page will continue to be added to as I continue to work. Below I've linked to a number of my online comics, arranged with the newest at the top and the oldest at the bottom.
Chirault is an ongoing fantasy graphic novel (approximately 450 pages at the time of writing, and estimated to be about 800 when finished), which I am working on intermittently as a way of keeping my skills sharp, and to experiment with new storytelling techniques; I consider it more of a practice piece than a polished, publishable product, but I like getting feedback on it and sharing it with others anyway. It is created in a series of 8x11" sketchbooks, inked with a brush and toned with markers, before being scanned in and uploaded just about as-is.
Tozar's Labyrinth is a 25-page minicomic, finished April 2011 after about two weeks of work. It is an equally silly story about two wanderers searching for treasure in a cave system; the pages in this piece are in full colour, and were created by drawing full pencils onto sheets of bristol paper and then scanning them in and colouring them in Photoshop.
Adventures is a 24-page minicomic that I created in spring 2010; it is a brief and slightly silly fantasy adventure involving two protagonists who don't know each other very well fighting a giant snake in a forest. The pages were sketched out and then lightboxed onto sheets of 9x12" bristol paper with a crow-quill dip pen, then toned with mechanical pencil.
Sevensmith is the oldest of my comic projects, which the site was named for; unfortunately, it has stalled since 2009. The writing is by Rinja, and the art by me; as it was my first real attempt at creating a comic, it is rather rough, but every so often I go back and doodle the characters some more...